Layered Salad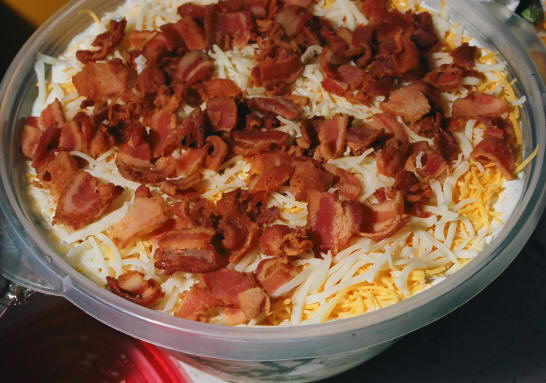 Salad greens
Green Peppers (chopped)
Celery (chopped)
Green Onions (chopped)
Fresh Mushrooms (sliced)
Olives (well drained & chopped)
2 cups frozen green peas (blanched for one minute)
1 carton (8oz) sour cream
1 cup mayonnaise
1 pkg. (.04 oz.) dry ranch dressing mix
1-2 Tbs. sugar
2 cups grated cheese--cheddar, mozzarella, parmesan
8-10 slices bacon--cooked & crumbled

Select large glass or clear plastic bowl. Place in it:
1st layer: mixture of greens (your favorite types of lettuce and fresh spinach leaves) equal to about 1-1 1/2 heads. Tear into bite size. Be sure all greens are as dry as possible.
2nd layer: combination of: green peppers, celery, onions, mushrooms, & olives equal to 1 1/2 to 2 cups.
3rd layer: green peas.
4th layer: add mixture of mayonnaise, sour cream, sugar, & ranch dressing.

Spread evenly on top, making sure edges are sealed. Sprinkle cheeses and bacon on top. Refrigerate overnight before serving.